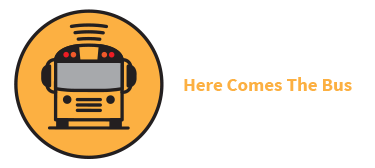 Here Comes The Bus is an easy-to-use website and app that enables parents to see the location of their child's school bus on a smartphone, tablet, or personal computer.
Download the app below!
Enter FCCPS Code: 29228
A majority of students ride to and from school using School Bus Transportation.
FCCPS Transportation thanks parents and students for supporting them in getting everyone safely to and from school. With the safety of each student in mind, Transportation requests that parents/guardians share this information with all children.
Expected Student Behaviors on buses
At the Bus Stop:
Arrive at assigned bus stop at least 5 minutes before pick up.

Always use assigned stops for the morning and afternoon routes.

Walk and do not run to and from the bus.

Stand at least ten feet from the road.

Await your turn to get on the bus. There is no need to push and shove.

When exiting, move quickly away from the bus.

Wait for the driver to signal before crossing the street.

Many bus stops are in front of neighbors' houses. Respect your neighbors. Do not be loud and disruptive. Be considerate of homes and yards. Do not leave trash in yards or climb their trees. Keep pets off of yards.

Never crawl underneath a school bus. If you drop something, tell the driver, and they will tell you what to do.

If it is necessary to cross the street when boarding or departing a bus, always cross in the front of the bus with the aid of flashing lights.
On the Bus:
Always obey the bus driver, whose job is to look out for student safety.

Remain seated while the bus is moving.

Do not disturb or distract the driver.

Talk softly and use language appropriate for school.

Do not throw anything out the window or extend arms, hands or head out of the window.

Keep the bus clean and sanitary.

Respect school property by not damaging or defacing the bus.
Bus Assignments:
Bus stops are assigned using an automated routing system based on registered addresses where students reside.

Students are expected to ride to and from school on their assigned buses unless alternative arrangements have been made with the transportation department. This assists in maintaining appropriate student lists and minimizing overcrowding.

Families who need to request a special or alternative bus stop, should use the Transportation Contact Form.
Large Items:
Projects or instruments too large to be held on a student's lap are not allowed on the bus. Please make arrangements for parents to drop large items off at school.
Cell Phones:
Students are allowed to use cell phones on the bus quietly. If it becomes a distraction, the bus driver will request the cell phone be put away. If it continues to be a problem, the cell phone may be confiscated. Bluetooth speakers are not permitted on school buses.
Walking/Biking:
Students do not need pre-approval to walk to or from school. Be sure to cross at the crosswalks and with the crossing guards when present. Bicycle riders must bike in the area where the school buses are loading and unloading.